This is a brief review and summary of the current undercarriage systems offered by many manufacturers but Bobcat has three options so we will focus on those three options since the undercarriage parts from each system seem to fluctuate. Extensive documentation is provided by Bobcat on their main website.
Historically, all Bobcat track loader undercarriages have been built with a "Solid Mount" system, which means the rollers and idlers bolt into place with no type of flexibility or shock suspension. As operator comfort became a priority and companies like Caterpillar introduced suspension systems similar to the original ASV torsion systems, Bobcat tried to find a way to compete. When the loader series switched from the T-300/T320 to the T700/T750 series Bobcat introduced its first suspension system, which was based on leaf springs on the rollers and idlers. As seen below in the graphic illustration the suspension system is indicated on the side of the undercarriage with a large emblem but when you look through the bolt holes you can see the leaf springs. For the T550, T590, and T630/T650 series, the rollers are slightly different and they are not interchangeable. We need to verify the serial number and confirmation from the user to determine which rollers to send in each case. The T450 only comes in the "solid mount", now referred to as "rigid" undercarriage.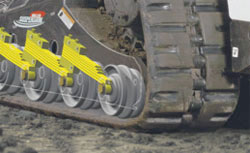 After a few years of the suspension system, Bobcat came out with a torsion system. Caterpillar already offers all of their machines in a torsion system but it does not affect the undercarriage parts. The Bobcat torsion system is also clearly indicated by a sticker on the side of the undercarriage but if the sticker is worn off you can see the torsion bars by looking at a side view of the undercarriage. Although the rollers are solid mounted, the torsion bars rotate to absorb the shock for the operator. The torsion bars appear to be additional rollers at first glance but this side view gives you an indication of what to look for to determine if the user has a torsion system versus a suspension system.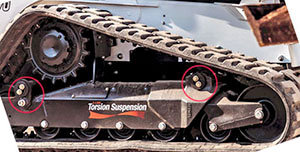 If you are buying a Bobcat then you have the choice of which undercarriage to choose on most of the models. The T450 is a rigid mount only and the T870 comes with the torsion system by default but all of the 500, 600, and 700 series have options. Although the undercarriage parts are not related to the torsion system and only the rollers are affected in the leaf spring suspension system, there seems to be a wide variety of undercarriage parts on these three series that must be verified by specifying your complete model, serial number, single speed or two speed, and verifying which undercarriage type you have three options.